JOIN THE SCHWARTZ FORCE
Know when I'm in your city.
BIO
Multimedia and comedy collide on stage as Eric Schwartz unleashes a cutting-edge performance filled with musical comedy, physical antics, multicultural satire and social commentary.  "A charmingly nerdy cross-cultural comic," (Yakima Herald) Eric has emerged from his Jewish and Latino upbringing in Southern California suburbs to earn the description, "Everything there is to love about entertainment" (First Order Historians). With appearances on The Tonight Show, Showtime, Comics Unleashed, BET and more, GQ India names him one of "5 International Comics You Must Catch." Eric's distinctive voice brings to life the character Chaz from the Streamy Award-winning hit, Helluva Boss, while his viral videos have aired on E!, G4, CNN and more. Forbes.com applauds him for having "a minor industry in pop music parodies."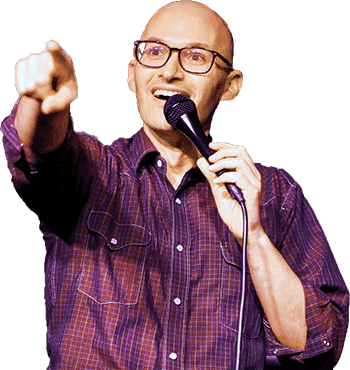 MERCH
Add some Schwardrobe to your wardrobe.