Memes
August 14, 2015
Straight Outta Compost: It ain't environmental, it's enviro-PSYCHO!  Making red and blue bandanas green.
August 14, 2015 0
---
June 1, 2014
You are the star of Disney's Maleficent with this easy-to-use template.  It will be much easier if you have basic Photoshop knowledge, but I have faith you can do it! By the way, this is possibly the dumbest thing I've ... Read More »
June 01, 2014 0
---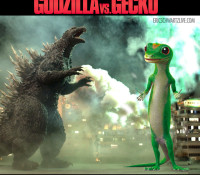 May 17, 2014
After Godzilla destroys the city, there's only one lizard who can clean up this mess.  It's Godzilla Vs. Gecko….carnage meets coverage!
May 17, 2014 0
---