September 2013
September 23, 2013
Hip hop only celebrated women with big butts… until now! Watch and share #FlatBootyGirl.
September 23, 2013 0
---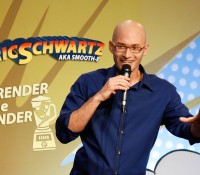 September 20, 2013
I'm excited to announce the release of my first one-hour comedy special, along with my brand-new website. "Eric Schwartz aka Smooth-E – Surrender to the Blender" drops November 5. Go to my store to preorder!
September 20, 2013 0
---
September 4, 2013
Do me and Justin Timberlake a favor. Watch and share this!
September 04, 2013 0
---